Email Us Any Time!
info@countrytraditions
online.com
Visit Us On Facebook
As The Bobbin Winds: Love Is In The Air

Having Trouble Viewing this Email, Please Click Here
As the Bobbin Winds Email Newsletter: Volume 2:11:2013
Dearest County Traditions Friends,

Love is in the air

and Valentines Day is only a few days away. So, we would like to take a few moments to share the love with you and all of our Country Traditions readers. One of the most commonly observed Valentine's Day traditions is expressing your love while pampering your sweatheart with the exchange of cards, flowers, and gifts. There are several other customs and traditions associated with Valentine's Day which differ from country to country, but one thing remains the same, no matter where you are is that it is a celebration of love by lovers.

In the beginning, Valentine's Day was associated with couples only but in recent times this day is seen in a much larger perspective. Now, people are taking the opportunity of this day to wish 'Happy Valentine's Day' to everyone they love be it their mother, father, teachers, siblings friends, or just anyone whom they feel is special to them in some way. The idea behind the tradition is to celebrate love, get love and give love to everyone around us.

Initially people used to exchange handwritten love notes, but starting in the 19th century, the practice of handwritten notes began to fade with the mass-production of greeting cards. Today, we are being showered with flowers, cards, teddy-bears, chocolates, and if we are lucky, some fine jewelry all due to the rigorous marketing campaigns by these industries. In fact, each year there are more than 36 million heart-shaped boxes of chocolate sold for Valentine's Day and that is just the boxes of chocolate shaped like a heart. Can you imagine if it where all chocolates and candies? Can you say "dentist?" There are also nearly 150 million cards purchased for exchanges and this number does not include the mass-produced cards for children's Valentines.

With all of this being said, keep this in mind when you are deciding what to get your Valentine. The flowers have a huge mark up and will most-likely wilt in a couple of days, the chocolate,probably won't make it through the night, and the card will just get used for scratch paper for a phone number or directions to that new quilt store. So, my challenge to you is to be original. For example...Last year, I was very short on cash but I wanted to get my husband something special and meaningful. So, I got on the computer, found a fancy, free,heart themed stationary, and listed on it 101 reasons and ways that I love him. It brought him to tears and he told me it was the best gift he has ever received. I urge you to use your creativity and make them something they will hold onto forever!


"Being deeply loved by someone gives you strength,
while loving someone deeply gives you courage"
-Lao Tzu



With February being National Machine Embroidery Month, we have several embroidery designs buy one, get one half off. Take advantage of some HUGE savings, during our Fall In Love With PFAFF sales event on select Pfaff sewing and embroidery machines. Don't forget about the "NEW" Stitchers Garden II Saturday Sampler quilt which begins this Saturday. It is stunning and it will give you a chance to use some decorative stitchs, different feet, and techniques that you may have never used on your machine before, all to create a stunning piece of quilting art.

XOXO until next time, May Your Bobbin Always Be Full!

Your Country Traditions Friends

---
You are ALL Sweathearts to us!!!
Shop Country Traditions Monday, February 11th through Saturday, February 23rd, 2013 for our
"Sweathearts" Sales Event
All Sale fabrics,

price marked in

"The Color of Love" (Red)

, will be
an additional 20% off!
*Some restrictions will apply. ONLY sale fabrics priced in RED will receive the discount. Limited to 1/2 yard minimum cuts. In house sale only. Limited to stock on hand.



---
Did you know that February is National Embroidery Month?

The use of embroidery to decorate cloth has been around since "women" began wearing clothes. The fine art of decorating fabric or other materials by stitching designs using thread, yarn, and a needle has origins that can be traced back to the Iron Age.

We all know that in-born passion to create with thread has been with us all, clear back to when the first skins and fur pieces were joined together to make clothes. I am sure it wasn't very long, with a needle and thread in hand, that our creative ancestors began stitching more than just straight lines and seams. How could they not want to decorate their furs and weavings with scrolling designs, colorful bead work, and beautiful embellishments?

Several beautiful examples of these embroidery works of art can still be found all over the world today. Each region has it's own distinctive style of embroidery which incorporates the cultures and history of that region. Many gorgeous examples of such embroidery work can be found in Ancient Egypt, China, Persia, and England.

The discovery of shuttle embroidery revolutionized the embroidery industry during the Industrial Revolution. In the 1800s, Joshua Heilmann worked on improving the design of a hand embroidery machine. This resulted in a huge chain of events leading to the developement of sewing machines in the 1860s, and then, to the invention of the hand powered embroidery looms in the 1870s.

I think that our ancestors would be very impressed and amazed to see just how far the Art of Embroidery has come and the many new and innovative techniques we are using today. So, whether you hand embroider because you enjoy the traditional look and relaxing in your recliner, or you prefer to have a professional machine look as it stitches out your designs, I think we all need to take a moment to appreciate this gorgeous art form.

In honor of National Embroidery Month... come celebrate with us at Country Traditions!!!


---

You're Invited to the 2013 Let's GO! Quilting Retreat!!!


sponsored by AccuQuilt and Country Traditions



AccuQuilt Retreat: June 4th-June 6th, 2013
AccuQuilt Reunion Retreat: June 8th-10th, 2013 ***SOLD OUT***

This event has been so much fun in the past and we a very excited to be hosting it again this year!!
Don't miss out on the FUN. Spots are limited and are filling up fast, so get yourself signed up TODAY!

If you would like to learn more about this amazing retreat, and to get yourself registered,
simply download a PDF of the 2013 Let's GO! Quilting Retreat Brochure by clicking here!

---


Are you ready for March Madness,
Quilter's Style?

Join us in our own little version of March Madness. This year's Mystery Quilt is quite lovely. So, instead of watching basketball game after basketball game, come show us just how great of a detective you can be by solving our "NEW" 2013 Quilt Mystery.
Here's how it works...
Each week we will give you design clues and sewing instructions to complete each of the blocks. You will not know what the quilt looks like, and that is the Mystery part. As you work your way through the clues, the quilt's design will begin to reveal itself, thus solving the mystery. Sound intriging?

Your clues will be made available to you every Monday of each week, starting March 4th, 2013 and the last clue will be given to you on April 1st, 2013. To get signed up for your Detective's License today so you too can join in the fun for only $9.99...click here.



---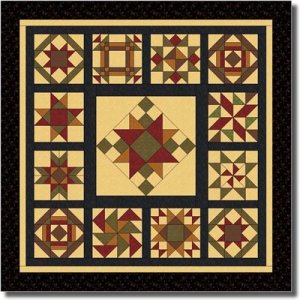 2013's Web Sampler


Bock-Of-The-Month

Welcome to our 2013 Internet Block-of-the-Month Program. This is our gift to you for being such a loyal reader of our "As the Bobbin Winds" newsletter. As you know, the sampler block patterns for this quilt are only made available to the loyal readers of the "As the Bobbin Winds" E-mail newsletter.

Over the 13 month course, you will receive directions on how to construct (12) different Star Sampler blocks. They will start out easy and work their way up in difficulty as we progress through-out the year. On the 13th month, you will receive the directions for the final layout and finishing of this beautiful web sampler quilt.

This particular project has been designed to be scrappy in nature, however, if your would like to purchase fabric to make yours, we have included suggested yardage with the first block pattern. We made our sample using batiks, but it would be beautiful and exciting to see it made up in say, 30's prints, Jo Mortons, Art to Heart, Kansas Troubles, or maybe the new Serenity line. Let your imagination be your guide. It will be sensational, no matter what fabric you decide to go with!

*Download your Mosaic Web Sampler Block by clicking on the block name above and then print off the pattern if you like it. You will need Adobe Reader installed with the latest version to open the PDF and print the pattern off.

***If you missed a past block, visit the Country Traditions On Line Newsletter Page for archived copies of past "As the Bobbin Winds" e-mail editions.