Email Us Any Time!
info@countrytraditions
online.com
Visit Us On Facebook
As the Bobbin Winds: Join us for National Quilting Day!

Having Trouble Viewing this Email, Please Click Here
As the Bobbin Winds Email Newsletter: Volume 3:5:2013

Dearest Country Traditions Friends,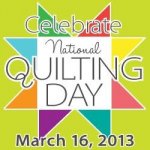 Come Celebrate with us. Let us be proud of our accomplishments and enjoy just how far the Art of Quilting has come! We will be having some awesome deals for you at the store beginning March 14th, 2013 in honor of National Quilting Day. So, come on in and check it out!

Once you have visited the shop, drive on over to Lincoln where you can take a stroll through The Nebraska Quilt Study Center. They are offering "FREE" admission to the exhibit on March 16th, 2013. It is definately worth the drive to see what beautiful creations have been made and just how far quilting has come.




Did you know

National Quilting Day

is sponsored by the National Quilting Association and started with a resolution passed on by it's members attending the 22nd Annual Show in Lincoln, Nebraska in June of 1991. Yep, that's right, this special day started in the state of Nebraska. Although the third Saturday in March is officially designated as

National Quilting Day,

quilters love a celebration, especialy when fabric in involved! So over time, observances have unofficially expanded to the whole month of March.

Country Traditions is honoring National Quilting Day with "SALES!!!" This month is packed full of savings!!! Save Big and get the sewing studio of your dreams with Koala sewing Cabinets, and a brand new Handi-Quilter. March 14th-16th, we will be having an "In-Store" sale as well. So, hurry in and take advantage of the discounts and get all your sewing supplies.

Carry on the fun by joining us on the "May Blossom Quilt Tour Bus Trip" comming up Friday, May 3rd & Saturday, May 4th, 2013. The bus will be stopping at 7 shops in 3 states plus, a behind the scenes tour of the International Quilt Study Center & Museum.

If you love spending time with friends and having a "BLAST" while quilting and making new friends, we still have room for the

AccuQuilt Retreat June 4th-6th

, 2013. It is an awesome time filled with laughter friends, and quilting.



We sure hope to see you all soon! Until we do, May Your Bobbin Always Be Full!



Your Quilting Friends,

Country Traditions

---
I
n honor of the holiday, the National Quilting Association each year designs a pattern for quilters to use to celebrate this special day. The official 2013

National Quilting Day

pattern,

Nine Patch

Stars

and

Stripes

, was designed by Kathy Lichtendahl of Powell, Wyoming. Use this pattern to create a donation to an organization supporting veterans, people serving in the military, or thier families. If

red

, white, and

blue

ins't your prefered palette, other combinations certainly work for this charming design. Get inspired and get quilting! Download the 2013,

Nine Patch

Stars

and

Stripes

pattern by
clicking here.....

..
---
Country Traditions is having a
National Quilting Day Celebration
March 14th - 16th, 2013

Enjoy 20% Off
select Regular Priced Items/fabric

***In store sale only, sale price limited to stock on hand, no special orders, can not be combined with other offers. Excludes Handi-Quilter Machine purchases
---
Handi Quilter

is Celebrating with Us Too!
Come into Country Traditions for a Handi Quilter demonstration
then pick out your
Handi Quilter Long-Arm machine TODAY!

Orders placed by March 16th, 2013
Receive FREE Shipping
with the purchase of an HQ Sweet 16, HQ 18" Avante,
or the HQ 24" Fusion packages.
Don't let this offer pass you by!
---
Build your dream Koala Sewing Studio Today!!!
Enjoy HUGE Savings on Koala Sewing Cabinets through out
the entire month of March!
Stop in to the store to take a look our display set ups
so we can help you customize your sewing studio.


Hurry...Special Ends: March 30th, 2013

---
Click Here
to Down Load your Registration Form and Reserve Your Seat on the Bus!
---
It's Time for a Class!


Sometimes it seems as though no matter how much we know and are capable of doing when it comes to quilting, there is still much more we want to learn, whether it be learning "New" techniques, using a template or tool we haven't tried before, or just brushing up on some basics that we may have forgotten over the years. Maybe you just need to get out of the house and spend some time with friends or are feeling the need to plant a seed for a new friendship. We have several classes scheduled for March and we would love to see you in the classroom, so come in and grow a new friendship while learning something new and/exciting.
Don't forget...You get 20% off

(regular priced items)

your fabrics and supplies needed for class!!!
Handi-Quilter Classes
Advanced Pro-Stitcher
McTavishing
Drafting & Quilting Feathers
Art & Stitch Software
PFAFF Classes
Mylar Luminous Gardens
All Day Machine Owners
Machine Owners 3
Machine Owners 4
Quilting With Embroidery Event
Quilts and Technique Classes


Mylar Luminous Gardens
Spring Blooms
Applique-Star Gazing
Churn Dash Star
And Your Point Is...With A Twist
April Showers
******Click the

Class

Titles Links above if you would like to find out times, dates, pictures,
and more details on these classe
s
.

We love "Show & Tell," so when you are finished with these projects, bring them in. What better time then now to show them off and receive some "Class Cash' bucks which you can use at our Holiday Affair Class party & Auction in December. So feel free to bring in and share with us your latest creations and your projects that mean the most to you or you are most proud of. We love seeing them and hearing about the battles of trying to complete these lovely masterpieces.
---
2013 AccuQuilt GO! Retreat
June 3rd-4th, 2013


During this years retreat you will have access to all the available GO! Dies you want to try. There are also 3 exciting projects to choose from to work on (Drunkard's Path, Tumbling Blocks, or the Scrappy Log Cabin Die by Country Traditions' owner, Leslie Main). You will also be receiving a T-shirt just for 2013 retreaters. Don't forget to bring you latest GO! creations so you can share them during our "Sew & Tell" social hour evening!

The seats ar filling up fast, so get yourself signed up TODAY!!!
And Bring a Friend!!!
For more information and to down load your registration form,
click here.
Or call us at (402) 721-7752
2013 AccuQuilt
GO!
Barn Quilt Unveiling Event
June 7, 2013

Ride in style and take a tour of AccuQuilt's new location. Receive exclusive Back Stage passes to all the fun of the day, including a meet & greet session with Ricky Tims and you will get to meet the Accuquilt team as well. After lunch, we will take a short trip to Lincoln, NE for a Behind The Scenes look at the International Quilt Study Center & Museum. This will be Quite a Fun and Exciting Day for everyone.
---
2013's Web Sampler

Bock-Of-The-Month


Welcome to our 2013 Internet Block-of-the-Month Program. This is our gift to you for being such a loyal reader of our "As the Bobbin Winds" newsletter. As you know, the sampler block patterns for this quilt are only made available to the loyal readers of the "As the Bobbin Winds" E-mail newsletter.

Over the 13 month course, you will receive directions on how to construct (12) different Star Sampler blocks. They will start out easy and work their way up in difficulty as we progress through-out the year. On the 13th month, you will receive the directions for the final layout and finishing of this beautiful web sampler quilt.
This particular project has been designed to be scrappy in nature, however, if your would like to purchase fabric to make yours, we have included suggested yardage with the first block pattern. We made our sample using batiks, but it would be beautiful and exciting to see it made up in say, 30's prints, Jo Mortons, Art to Heart, Kansas Troubles, or maybe the new Serenity line. Let your imagination be your guide. It will be sensational, no matter what fabric you decide to go with!






*Download your Blueberry Pie Web Sampler Block by clicking on the block name above and then print off the pattern if you like it. You need Adobe Reader installed with the latest version to open the PDF and print the pattern off.

***If you missed a past block, visit the Country Traditions On-Line Newsletter page for archived copies of past "As The Bobbin Winds" e-mail editions.


---