As the Bobbin Winds Email Newsletter: Volume 10:11:2013

Dearest Country Traditions Friends,

The weather is turning much cooler, the leaves are changing colors, and the pumpkins are on the porches waiting for just the right time to be carved and lit. Can you believe that it's October already? I can't. That just means Christmas is just around the corner and I am way behind on my project making! Don't wait until the last minute like I tend to do, we have lots of sales and fabrics perfect for the holiday gift giving season. From Fall and Halloween fabrics, to Christmas, we have it all including widebacks so you won't have to spend extra time piecing your backings. It does not matter if you want to make a table runner or a king-sized quilt, we have patterns that are perfect for you.

I mentioned "NEW" fabrics and if you haven't been in the shop for a few weeks, I would highly recommend coming in and taking a look at all the new batiks. There are a couple of very well known designers who have come out with their first batik lines and Country Traditions is one of the first shops selected to carry them. The first line of batiks we received is the "Quilted In Honor" fabric by Island Batiks. These hand-dyed batik fabrics are gorgeous with their vibrant reds and rich blues. Not to mention, there are several "free" patterns you can download when you visit the Island Batik website.

Jo Morton, who is from our great state of Nebraska, has blessed us quilters with a line of batik fabrics. "Dovetails I" is in the store now and I am here to tell you, she did an amazing job on these! The line is coming in two shipments, the next, "Dovetails II" is due at the store any day and we can't wait!

How many Jinny Beyer lovers do we have? I just love her rich jewel tones and here at the store, we can't get enough of her fabrics. So, because we are such a great distributor, we were honored to be able to carry her very first line of batiks called "Malam Batiks" from RJR fabrics

Check out our selection of
"Martingale/That Patchwork Place"
books while you are here. You are sure to find some wonderful ideas for Holiday gifts and if you pick one up at Country Traditions now, through December 31st, 2013, you will receive a $10 mail-in-rebate from Martingale Publishing.
Speaking of rebates,
"PFAFF Octoberfest"
is coming up October 21st-November 21st. You can receive up to $150 mail-in-rebate with the purchase of select PFAFF sewing machines from Country Traditions. If you have been thinking about getting a new machine, don't wait any longer...Give us a call, we would be happy to take you for a test drive. Remember, we give you free owners classes with your machine purchase, to make it an easy transitions from your old machine to the new one. Who knows, you may even learn some things you NEVER knew before.
Thursday, October 24th, is the annual
Downtown Fremont's Halloween Hysteria Trick or Treat event
. There will be lots of treats and fun decorations to enjoy. Watch out for all the little "ghosts and goblins." Bring the little ones down for the costume contest, have their picture taken by V.W Photography, go to the Haunted Bank, and do some Trick or Treating, all right here in your lovely Downtown Fremont businesses.
We have all kinds of suprises and goodies for you this October. As our
"TREAT"
to you, enjoy
30% Off
"select"
AccuQuilt strip dies
with the coupon below
. Remember, every die comes with a free pattern, but you can also find free patterns as well as downloadable patterns, on
AccuQuilt's website.
Happy Halloween! May the treats be many and the tricks few!
May your bobbin Always be full!
Your Country Traditions Friends


---
Look at the beautiful projects you can make with all
The
New Designer Batik Lines

we have at the store right now!!!
Quilted In Honor




By Island Batiks



"Stars & Stripes"
By Jackie Robinson

Dovetails




By Jo Morton






"Harmony Quilt"


By Candy Hargrove

Malam Batiks


By Jinny Beyer




"Facets"


By Jinny Beyer
Co
untry Traditions is very honored and proud to be one of the few shops in Nebraska to carry these three lines of batiks.
These batik lines are stunning and beautifully designed.
We can't wait for Jo and Jinny to produce a second line for us to fall in love with!!

---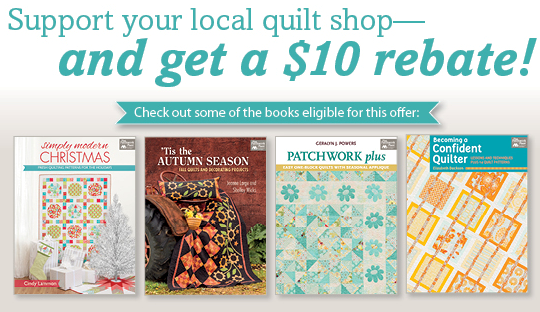 Now through December 31st, 2013
Purchase any Martingale/That Patchwork Place book from Country Traditions,
fill out a rebate form, and send it in along with your receipt
and they will send you a check for $10!!!


---
Take a break from pumpkin carving and haunted house decorating and
come in and test-drive a new machine during our

PFAFF Octoberfest Sales Event!!!


October 21st through November 21st, 2013





***

M

ail

I

n

R

ebates

***


(with the purchase of select sewing machines)
Quilt Expression 3.2




$50

mail-in-rebate






Quilt Expression 4.2




$100

mail-in-rebate
Performance 5.0




$150

mail-in-rebate
These are just some of the "Special Offers" we will be having.
Don't wait, come in and get yours TODAY!!!
AND receive some extra Christmas shopping $$$

(some restrictions apply, cannot be combined with any other offers, see store or sales associate for full details)
---
Bring your Ghouls and Gobblins Downtown
for lots of fun and excitement
Thursday, October 24th, 2013
Bring the little ones down for

the costume contest, have their picture taken

by V.W Photography, go to the Haunted Bank, and do some Trick or Treating
all right here in your lovely Downtown Fremont businesses.
---
Koala Sewing Studios




Enjoy "Sewing & Craft Club Pricing"
now through Thanksgiving!!!



***Don't forget

...It takes 6-8 weeks for
Top Shelf delivery
so hurry in to decide on your style TODAY!!!
Have it home and sewing on it before Christmas
---
***COUPON***
Expires October 31st, 2013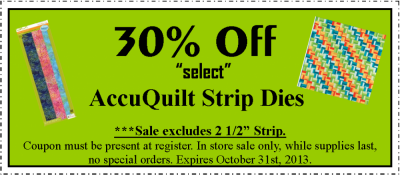 ***Coupon must be present at time of purchase.
Sale excludes the 2 1/2" strip die. In-store sale only, no special orders.


---
Web Sampler Block of the Month

2013's Web Sampler

Block-Of-The-Month

Welcome to our 2013 Internet Block-of-the-Month Program. This is our gift to you for being such a loyal reader of our "As the Bobbin Winds" newsletter. As you know, the sampler block patterns for this quilt are only made available to the loyal readers of the "As the Bobbin Winds" E-mail newsletter.

Over the 13 month course, you will receive directions on how to construct (12) different Star Sampler blocks. They will start out easy and work their way up in difficulty as we progress throughout the year. On the 13th month, you will receive the directions for the final layout and finishing of this beautiful web sampler quilt.

This particular project has been designed to be scrappy in nature, however, if your would like to purchase fabric to make yours, we have included suggested yardage with the first block pattern. We made our sample using batiks, but it would be beautiful and exciting to see it made up in say, 30's prints, Jo Mortons, Art to Heart, Kansas Troubles, or maybe the new Serenity line. Let your imagination be your guide. It will be sensational, no matter what fabric you decide to go with!

*Download your Web Sampler Block by clicking on the block name above and then print off the pattern if you like it. You need Adobe Reader installed with the latest version to open the PDF and print the pattern off.

***If you missed a past block, visit the Country Traditions On-Line Newsletter page for archived copies of past "As The Bobbin Winds" e-mail editions.