Having Trouble Viewing this Email, Please Click Here
As the Bobbin Winds Email Newsletter: Volume 7:8:2014

My Dearest Country Traditions Friends,

Did you enjoy the sights and sounds of the Fourth of July!?! The sparkles, flashes, twinkles and bangs from all of the awe inspiring fireworks against the star studded sky sure can be something to admire. What talents the fire technicians have to match up the designs, styles and colors of each firework to create such pleasing art for us to enjoy. Just goes to show you there is a little bit of a quilter in each and everyone of us.

Now that summer is officially here, many of us are looking forward to a little planned vacation or get away.
Vacations are wonderful for the quilter's soul. Sometimes taking a small break from your passion can re-energize the creative palette. If you are lucky enough to get some time off and away, it's good to have something to keep you busy during the long hours in the car. Most individuals with the creative bug can't sit still for very long. If I am really organized, I like to sew binding on an almost finished quilt or two. If going on more of a site seeing vacation, make sure you pick up the newest version of the Quilters' Travelers Companion book that just arrived at the shop. The book has all the quilt shops across the United States listed, with directions, maps, hours of operations, and with descriptions of the shops. My book sits under the seat in the car, with shops on the way earmarked. So not to miss a one.
It is always interesting to visit Quilt Shops in other areas of the country and see what they are creating!


Can't get away for a long vacation!?! Then make lemonade with a weekend get away. Check out the Nebraska Passport Program, with 80+ wonderful sights and adventures just a short drive away in this wonderful state of Nebraska. Or make your own mini summer adventure by collecting rows from the Nebraska Row by Row Experience. It's like a shop hop, only there are no passports and very few rules. You could even earn your self some fabric.


I
f learning something new is your thing this summer, then join us in the classroom. It's not to late to sign up for our Long Arm Quilting Retreat with Sue Patten. (But you better do it VERY Soon!).

Sue Patten is from Canada and not your typical quilter. We are excited to have her visit. If you would like to add some artistic style to your quilting, and have a good time, then Sue is your gal.
Thinking of getting the "Best Sewing" machine around!?! We have some great PFAFF Summer Savings. Hurry in and visit with Scott and/or the rest of the Creative Center staff, they will help you find the perfect PFAFF machine for you.
And of course, we don't want to leave our Machine Embroidery friends out of the fun. Just for you, we have booked Claudia Dinnell of Claudia's Creations to come to Country Traditions and teach her "Twas the Night Before Christmas" workshop. Space is filling up fast for this one, so make sure you check it out and get registered soon.
We sure hope to see you all soon! Until we do, May Your Bobbin Always Be Full!
Your Country Traditions' Friends


---
CHRISTMAS
IS Only
FIVE MONTHS away

However it's almost
HERE


at

Country Traditions!
Mark your Calendar to join us
July 24-26, 2015

For our Christmas In July Celebration and Party!

Click Here to Learn more.............

---

Special Edition Retreat


Sponsored by our friends at Handi Quilter





Long Arm Quilting Retreat





July 11, 12, 13, 2014





An Information Packed Retreat with Lectures and Hands-on Machine Quilting





with




International Instructor and Special Guest Teacher




SUE PATTEN

If you Machine Quilt and want to play more on the creative side with your machine, then this is the retreat for you! Hurry, this retreat is filling up fast, with only a few seats left!

HURRY!

Click here to learn more and get registered today!




---
- Handi Quilter - Handi Quilter - Handi Quilter - Handi Quilter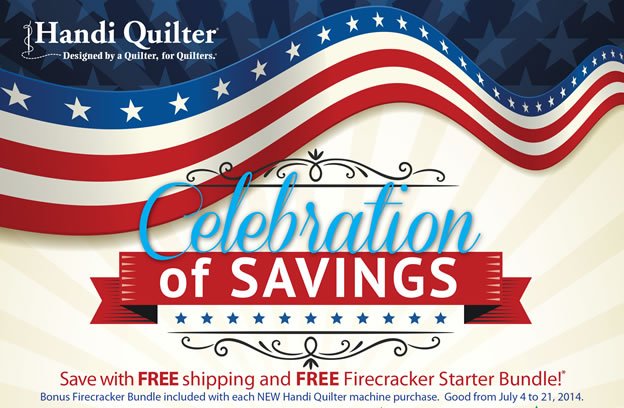 Click Here, to learn more about this
GREAT Handi Quilter Special!
- Handi Quilter - Handi Quilter - Handi Quilter - Handi Quilter -

---
Are Your Bags Packed and You're Ready to Go?

It's summer time, which means, it's Vacation Time!
We know Quilters love to travel! We have several great hops, stops and programs you will want to add to your traveling plans.........

Don't forget to pick up the BRAND NEW "Hot off the Press"
Quilter's Travel Companion Book. You don't want to be close to a Quilt Shop and miss it because it was around the block and you didn't know it was there!?!
---
Click Here to learn more about a "Fun" Shop Hop across the State of Nebraska!
---
Start your Adventure by click here..........to learn more!
---
Get your Ticket to Ride by clicking here...............
---
---
It's Time for




J.C. FREMONT DAYS


Friday, July 11 and Saturday, July 12

John C Fremont Days is this weekend. With many activities around Fremont, there is much for everyone to enjoy. So while the man in your life is being inspired by the Car Show on Main Street, you can visit Country Traditions and be inspired by a new pattern or fabric for your interests.

To learn more about all the exciting events and
activities going on click here..........

Remember that Main Street is closed on Saturday, but there is still plenty of parking on the off-streets close by. We are well worth the walk!
---
---
PFAFF PFAFF PFAFF PFAFF PFAFF PFAFF PFAFF
Click Here to Learn more.
....or better yet, come in to the shop and take a
PFAFF
for a Spin!
PFAFF PFAFF PFAFF PFAFF PFAFF PFAFF PFAFF
---
Calling all




Embroidery Machine Owners!





Country Traditions is proud to




announce that

Claudia Dinnell of


Claudia's Creations



is coming to
Fremont, Nebraska



to teach her famous




Twas the Night Before Christmas




project workshop!
Workshop is Friday, August 22 and Saturday, August 23.

Click here to learn more.........
---
---
"You've Been Framed!"




2014's Web Sampler

Block-Of-The-Month


Welcome to our 2014 Internet Block-of-the-Month Program. This is our gift to you for being such a loyal reader of our "As the Bobbin Winds" newsletter. As you know, the sampler block patterns for this quilt are only made available to the loyal readers of the "As the Bobbin Winds" Email newsletter.


Over the 12-month course, you will receive directions on how to construct (12) different framed blocks. They will start out easy and work their way up in difficulty as we progress throughout the year. In the last month, you will receive the directions for the final layout and finishing of this beautiful Web Sampler Quilt.
This particular project has been designed to be scrappy in nature, however, if you would like to purchase fabric to make yours, we have included suggested yardage with the first block pattern. We made our sample using batiks, but it would be beautiful and exciting to see it made up in any line of your choice...Kansas Troubles, Jo Mortons, or just some vibrant tonals would be lovely. Let your imagination be your guide. It will be sensational, no matter what fabric you choose.
*Download your Web Sampler Block by clicking on the block name above and then print off the pattern if you like it. You need Adobe Reader installed with the latest version to open the PDF and print the pattern off.

***
The "You've Been Framed" pattern is copyrighted and all rights belong to Scott Flanagan and Country Traditions. Limited permission is given to current "As The Bobbin Winds" e-mail subscribers to print ONE copy of each pattern for personal use. To use this pattern one MUST be a current subscriber to Country Traditions' "As The Bobbin Winds" e-mail newsletter list. Permission is NOT given, for patterns to be copied and handed out to any non-member of our newsletter list. Thank-You for respecting our creative efforts and livelihood.
Don't MISS a THING!
Have you seen the 2014:

2nd

Quarter (Paper) Newsletters Yet?


If for some reason yours did not arrive or is missing in action, click the links below and get caught up on all the happenings. Want to see what classes we have scheduled, learn about an event coming up, or specials on machines..... just click the links below.



(*You will need Adobe reader installed on your computer to open the newsletters)

---
Country Traditions
330 North Main Street
Fremont, NE 68025
+1 (402) 721-7752
www.countrytraditionsonline.com


Store Hours:
Mon-Wed: 10:00 am-5:30 pm
Thur: 10:00 am-8:00 pm
Fri: 10:00 am-5:30 pm
Sat: 10:00 am-5:00 pm

---