Email Us Any Time!
info@countrytraditions
online.com
Visit Us On Facebook
As the Bobbin Winds Email Newsletter

Having Trouble Viewing this Email, Please Click Here to View On Line
As the Bobbin Winds Email Newsletter: Volume 7:20:2011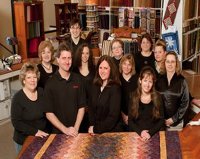 Dearest Country Traditions Friends,

Welcome to the "New" As the Bobbin Winds Email Newsletter. We know you have all been going through withdrawal as we switched over to our new hosting site, and worked our way through the web world learning curve. Thank you to all of you who have been calling and worrying that you had gotten lost on the list, because you haven't heard from us!

So much has happened since our last email newsletter, from the communication side of things we launched our new web site. If you haven't logged on yet, please take a few minutes to click around: www.countrytraditionsonline.com. We are able to update the site ourselves (yea!), provide you with a monthly happenings calendar and the ability to print off the snail mail newsletters, at home and add pictures of events and happenings at the shop, just a few of the many exciting benefits the new site provides.

This has been such a "Fun" year at Country Traditions, we have gotten to spend time with "old" friends and make all kinds of "New" friends, that we have to take a moment and personally welcome all our "New" friends from the Nebraska's Indendent Shop Hop, Minnesota/Iowa Bus Trips, the Dodge County Relay For Life, the First Annual Accuquilt Retreat, and the many shows we have traveled to over the last couple of months. We truely have had the time of our lives meeting all of you! We look forward to many more visits together and becoming "Best of Friends"! We hope you enjoy your first addition of "As the Bobbin Winds."

Until next time, May your bobbin always be full!



Your Country Traditions Friends






---
Christmas is Only Six Months away!
It must be time for a

Christmas in July

Party!


And the Country Traditions Holiday Elves have been busy, ordering, receiving, and stocking all the lastest holiday fabrics and designs arriving at the shop. Tomorrow, Santa's party planners will be decorating the shop, with all the finest that 2011 Holidays have in store for us. The Party Doors open at 10:00 am sharp on Thursday, July 21. Come cool off, with us as we show case all the newest holiday fabric lines, take part in holiday treats, watch a demo or two and share a gift or two from under the tree. Don't miss out on the fun,

click here

to get all the details.

*If you are visiting us on Saturday, remember, Main Street will be closed for Crazy Days. However, all the side streets are open. You can get to us easily by coming down Park Avenue Street and parking in the public parking lot west of the shop. Not sure where you'ur going,

print off a downtown walking map to help find your way.
---
It's
Crazy Days
!
It's almost that time....school will soon be starting. Don't let summer pass you by without getting a little "Crazy" Join us for all the Crazy Fun and Wild Deals happening on Downtown Main Street.,Saturday, July 23, 2011.
If you haven't visited Main Street for Crazy Days in a couple of years, this year will stand out as something to remember, with all kinds of new activities and events for Kids of all ages!
Click here
to learn more.
---
Handi Quilter
Celebrates Summer with "Free" Shipping!

Declare your independence from Shipping costs with
a NEW HANDI QUILTER system
purchased from Country Traditions!



Receive standard pricing, plus complimentary Owners Classes for the lifetime of the machine, $20.00 off all Longarm Technique classes, knowledgeable support staff, a Certified on-site Technician, and Complimentary delivery and setup*!


Over a $1400.00 Savings Value!

Now is the time to buy your Handi Quilter!
It doesn't get much better than this!

Hurry and Order Your Machine at Country Traditions Today!
Offer Expires August 6th, 2011.

*complimentary delivery within 350 miles of Country Traditions


---
Calling all Quilters and Quilter Wantabees
WE WANT YOU! WE NEED YOU!

Join us for our Quilts of Valor
Under Our Wings Event
August 11th-13th

Click here to sign up and learn how you can help!
---
2011 Internet Web Sampler Celebration
Block-of-the-Month
Welcome to our 2011 Internet Block-of-the-Month Program. This is our gift to you for being a loyal reader of "As the Bobbin Winds".
You can only get these sampler block patterns
by being a loyal subscriber of "As the Bobbin Winds" email newsletter.
Over the course of the next 13 months you will receive directions on how to make (12) different Star Sampler Blocks, starting easy and working up in difficulty as we move throughout the year. On the 13th month you will receive the directions for the finishing layout of this beautiful sampler quilt.
This project has been designed to be scrappy in nature, however if you would like to purchase fabric to make yours we have included suggested yardage with the first block pattern. We made our sample using fabric designed by Jo Morton, but it would be beautiful in Batiks, Art to Heart, 30's, Kansas Troubles, or the New Serenity Line, Let your imagination be your guide!
Are you ready to get started!
The first block in our series is the
Double Friendship Star.
*Download the Star Sampler block by clicking on the block name above and then print off the pattern if you like. You will need Adobe Reader installed with the latest version to open the PDF and print the pattern off.
---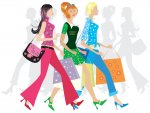 "OLD BAG DAY"

Remember Saturday, July 30 is a 5th Saturday which
means it's an Old Bag Day.

Bring in your 2011 Shop Hop Bag, and receive 20% off your regular item purchases.*

(*some terms and conditions apply, please see signs posted at the shop the day of the sale)

---