Email Us Any Time!
info@countrytraditions
online.com
Visit Us On Facebook
As the Bobbin Winds Email: Thanksgiving Greetings
Having Trouble Viewing this Email, Please Click Here
As the Bobbin Winds Email Newsletter: Volume 11:22:2011

Dear Country Traditions Friends,

Can you believe that the holidays are upon us already? Where does time go, for that matter the year? Country Traditions is ready to help you with that shopping list and of course those decorations to make the Holiday even more special. Shopping is second to quilting for most of us.

Wouldn't a new sewing machine be a nice gift under your Christmas tree? Maybe some accessories or embroidery software would be a nice treat. Be sure to stop in this week to see what great early bird specials we have going on in the creative center. There is still time to get that new PFAFF home so that you can get all your holiday gifts done.

The turkey will soon be done, the men will be watching their marathon football games, and you will be looking for those great After-Thanksgiving sale deals. Country Traditions has everyone on your sewing list in mind. Maybe a Christmas Tree ornament designed for the sewer, or knitter, or a new pattern or book. We can help you find some fun stocking stuffers for your quilting friends and maybe even a gift or two for you. We will be

What do you get when you ask a
Quilter to Dress the Turkey?



opening early, Friday Morning at 8:30 am,
with the store full of Door Busters Deals.

Everyone at Country Traditions would like to wish you a Happy Thanksgiving. As you give thanks this Thanksgiving, don't forget to give thanks for the truely important things in life- bountiful stashes of fabric, bushels of patterns and books, an abundance of notions to make all your sewing tasks so much easier.

May Your Bobbin Always be Full!

Your Country Traditions Friends
---
Are you an Early Bird? Have you already gotten your Holiday Gifts sewn and shopping done? For those of you who haven't, it's time to start thinking about what we want under the tree for our friends, family and yes, even ourselves.

Doesn't every quilter want to be sewing on a PFAFF!?! And wouldn't it be great to be sewing our heartfelt holiday gifts on a state of the art PFAFF sewing machine! Well, now is the time. PFAFF has given all of us that chance. Have you been so very good this year, the opportunity to make just that happen. We have the best prices of the holidays and no interest financing available.



As the saying goes the early bird get's the worm this speical sales event .......
---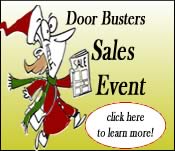 Door Buster Sales Event


As we sit with full tummies and count our many blessings, it must be time to celebrate the season in style! Why fight the crowds at the mall and chain stores, when you can come join your Country Traditions friends.

We are letting the guys sleep in and opening early for all your holdiay power shopping pleasure. Join us, Friday at 8:30 am for Door Buster Deals and Specials sure to make any quilter jump for joy!


Friday, November 25:

8:30 am

-5:30 pm

Saturday, November 26: 10;00 am-5:00 pm
---

2011 Internet Web Sampler Celebration
Block-of-the-Month


Welcome to our 2011 Internet Block-of-the-Month Program. This is our gift to you for being a loyal reader of "As the Bobbin Winds". You can only get these sampler block patterns by being a loyal subscriber of "As the Bobbin Winds" email newsletter.

Over the course of the 13 months you will receive directions on how to make (12) different Star Sampler Blocks, starting easy and working up in difficulty as we move throughout the year. On the 13th month you will receive the directions for the finishing layout of this beautiful sampler.

This project has been designed to be scrappy in nature, however if you would like to purchase fabric to make yours we have included suggested yardage with the first block pattern. We made our sample using fabric designed by Jo Morton, but it would be beautiful in Batiks, Art to Heart, 30's, Kansas Troubles, or the New Serenity line. Let your imagination be your guide!

Start your Star Sampler block by clicking on the block name above and then print off the pattern if you like. You will need Adobe Reader installed with the latest version to open the PDF and print the pattern off.

**If you missed a past block, visit the Country Traditions On Line Newsletter Page for Archived copies of past "As the Bobbin, Winds" email editions.

---